We meet the SECOND Wednesday of every month in the staff room to discuss the book of the month from 6:30-7:30pm. All interested young people in grades 9-12 are welcome. Refreshments are served. Ask for a copy of the current book at the front desk.
Wednesday, December 9, 2009
6:30 PM to 7:30 PM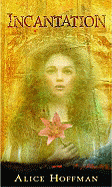 Incantation by Alice Hoffman
Estrella deMadrigal thought she knew herself: daughter, granddaughter, sister, dearest friend, beloved. She is Star in the Night Sky, Truth in the Darkness. But truth is rare and precious in this cruel and unforgiving century in Spain, when Jews who refused conversion to Christianity risked everything – love, life, family, faith.
Then: A startling discovery shakes Estrella's world to the core. And yet, it is something small and sweet that sets it aflame. A kiss. A kiss from someone she is forbidden to love.
As a new girl emerges from the cocoon of secrets in which she has been shrouded, passion burns and friendship crumbles – and betrayal unleashes a monstrous evil from the very deepest part of the earth. Estrella crosses over to a place she never thought she could be; she is someone she never could have imagined.
Remember the story she is about to tell you.