We meet the FIRST Wednesday of every month in the lower level of the library to discuss the book of the month from 6:30-7:30pm. All interested young people in grades 6-8 (not young adults, but not children, hence TWEENS) are welcome. Refreshments are served.
Wednesday, December 2, 2009
6:30 PM to 7:30 PM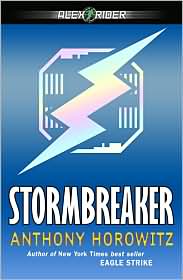 Stormbreaker by Anthony Horowitz
They said his uncle Ian died in a car accident. Alex Rider knows that's a lie, and the bullet holes in his uncle's car confirm the truth. But nothing can prepare him for the news that the uncle he always thought he knew was really a spy for Britain's top-secret intelligence agency. Enlisted to find his uncle's killers and complete Ian's final mission, Alex suddenly finds himself caught in a deadly game of cat and mouse, with no way out. The original novel that started the worldwide phenomenon is now a major motion picture!