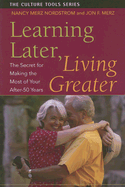 Tuesday, September 15, 6:30-7:30pm
Pelham, NH author Nancy Merz Norstrom, discusses her book 'Learning Later, Living Greater': The Secret for Making the Most of Your 'After-50' Years. This is a book that will introduce people over 50 to the ideas and benefits of lifelong learning. It will challenge them to become involved in meaningful new avenues of productivity: educational programs, travel, community service and more.
This program is sponsored by The Friends of the Kimball Library. Refreshments will be served.