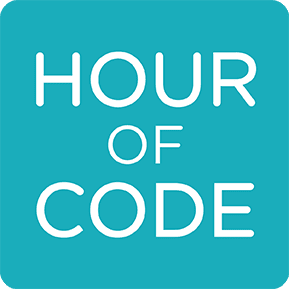 Join us after school as we commemorate Computer Science Education Week by learning some basic coding skills. Kids in grades 1-5 are invited to come to the library after school to try out some kid-appropriate coding programs. Students will have the option to work individually or cooperatively on coding projects. We will be focusing on Scratch, a visual programming language geared towards kids. This program will be self-paced so there will be lots of time for exploration. All levels of coding experience are welcome!
Youth may take the bus from Atkinson Academy to the library if parents make arrangements with pick-up patrol.
(The library is not taking responsibility for transportation, we are only letting you know that there is a bus that stops here.)  If kids come directly after school on the bus we encourage packing a small snack for them.
Please note that completion of drop-off waiver by an adult caregiver is required BEFORE any student under age 10 can participate in this program without an adult caregiver present in the building.
We are offering this after school program on TWO dates. You can come to one or both sessions.
Registration is required for each session. To register for Wednesday, December 11th click HERE. To register for Friday, December 13th click HERE.