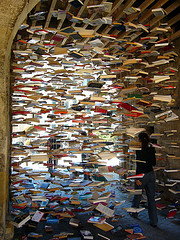 Please note that we are currently not receiving donations until after 4/15/2020.
Kimball Library accepts book donations year round, but twice a year we urge you to clear out what you no longer want and bring them in to us.  The Town-wide Yard Sale is coming up on May15 and we'd like to have a large selection for folks to peruse and purchase.  These items take some time to be sorted through which is why we are asking for them now.
We accept books, music, and DVDs in good condition.  Please be sure books are not moldy or damaged and that music and movies are playable the entire way through.  We do not accept any magazines, text books, encyclopedias, or Reader's Digest condensed books.
When we receive your donation, we first sort through to see if we'd like to add any of the items to our collection.  If we don't add the item(s) to our collection, we then decide if it is to be sold or to be transferred to a charitable organization.  Please take care to recycle your unwanted items by helping the environment and your local library.
Donations can be received during open hours from Monday-Friday (10-8) and Saturday (10-3).  If you have large amounts of materials, please call ahead so we can be sure to assist you.
PLEASE DO NOT LEAVE THEM IN OUR BOOK DROP, FRONT DOORS, ETC.